After you've completed a purchase, the download links for the item are automatically added to your Marketplace account's download area. The download links you receive will include a Main File or Installation package and also the License Certificate which includes your Purchase Code.
To access your Purchase Code for an item:
Log into your Marketplace account
From your account dropdown links, select 'Downloads'
Click the 'Download' button that corresponds with your purchase
Select the 'License certificate & purchase code' download link.
Your Purchase Code will be displayed within the License Certificate.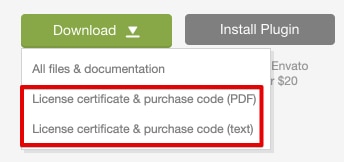 You need your Purchase Code in order to create a support ticket, you can do this by clicking on the link at the top of the page and registering in our support center.